World bronze medals for VMU 3×3 basketball team
In China, 3X3 FISU World University League 2018 finals took place in the city of Xiamen.
On November 15-18, the winners of the first and second winners of the 16 strongest male and female universities 3 × 3 teams took part in the finals.
Vytautas Magnus University team participated as the winner of the European 3 × 3 University Championship.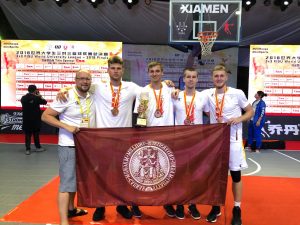 Only Lukas Grabauskas (Enrico Battaglia, Italy) remained in the team of European champions, Vainius Steponavičius, Ernestas Sederevičius and Deividas Petravičius (all of the Vytautas Magnus University basketball team) joined him. The VMU team kicked off the final tournament against McGill University (Canada) (21:15).
According to Lukas Grabauskas, the team lacked a game because everyone gathered from the big basketball and needed time to feel the 3 × 3 basketball spirit.
The team quickly found its game and the group's match ended in two victories at the Macquarie University, Australia at 17:15, and the Arel University of Istanbul. Turkey 21:10. The Center Studies Studios became the first test of the relegation games. Mexico, which was thrown at the speed of Vytautas Magnus University triangle even 21: 9.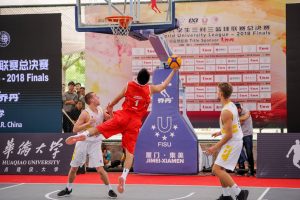 The quarterfinals barrier also went victorious at 21:11 against Payame Noor University, Iran. Men from the VMU Semifinals waited for all the victories of the Chinese Huaqiao University. The team with two Chinese national team semi-finals began to fight and point to the point, but the Chinese team turned stronger and defeated VMU 21:16.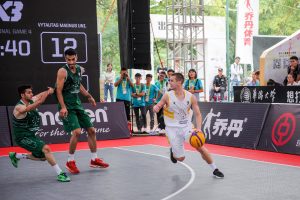 VMU team center Deividas Petravičius says that the playoff stage required a lot of strength and emotion, but for the third place, we are concentrating on the competition and are determined to win the medals. The great attitude and desire to win medals helped defeat Auckland University. New Zealand 21:16. Vytautas Steponavičius, a member of the Vytautas Magnus University team, says that the third-place medals won a huge amount of work and a great feeling, as the team of the world's 3 × 3 universities came to this final tournament.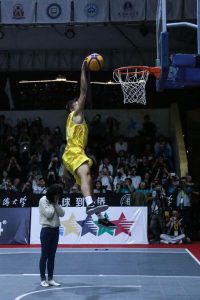 The third place medals were not the only trophy for the VMU team. Ernest Sederevičius won a basket wrap contest. Lukas Grabauskas shares only the best of the mood: "The final tournament required a lot of strength, we are tired but happy because of the medals." First place went to Huaqiao University in China, second place to McGill University in Canada, third place to Vytautas Magnus University, Lithuania.